Gift Shop!
Gift Vouchers
Looking for the perfect gift? Our bespoke screenprinted gift vouchers make the perfect present. Available in a range of prices: £100, £50 & £20. You can also purchase workshop vouchers for either our Beginners or Deluxe courses!

Workshop Gift Box
Inside each box will include a beginners workshop voucher or a deluxe workshop voucher if you're feeling generous, a copy of our first book 'Screenprinting, The Ultimate Studio Guide: From Sketchbook to Squeegee,' we'll even chuck in a free Print Club greetings card and to top it off a Print Club apron! Each box has hand printed, packaged and posted out to you! Leave your gift message in the order notes and we shall write your message in the card for you.

The Ultimate Guide from Sketchbook to Squeegee
Our book gives you an inside peek at the inner workings of our studio and the artists that work in there! You'll be able to follow the steps from established and well-known artists such as; Ben Eine, Rob Ryan, Steve Wilson and many more to create your own screen-printed work. Not only in this book will we show you how to print but we will also give you a guide how to sell yourself as an artist and put on a show. Perfect for beginners but, advanced screen printers alike!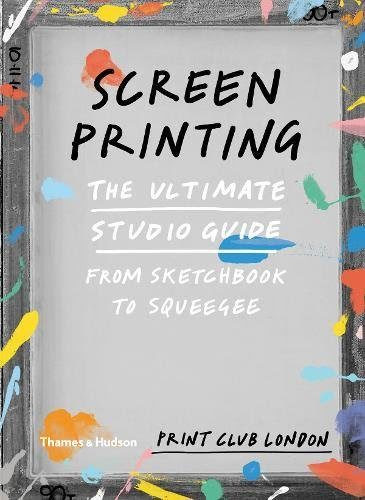 Print Club's Home Printing Kit
This screen printing kit and guide has been developed by Print Club London so that anyone can design their own t-shirts, tea towels, bags and banners, whether or not they've printed before. The reusable templates and water-based inks mean no nasty chemicals or single use screens. Just print, rinse and repeat. All you need is something to print on and some fresh ideas!
Included in the kit; – Wood screen – pre-stretched (25 x 35 cm / 10 x 14 in print area) – Wood squeegee (20 cm / 8 in) – Water-based black fabric ink (100ml) – Reusable vinyl templates (5 sheets) – Blank vinyl (create your own) – Wood spatulas – Step-by-step guide

Richard Brendon x Print Club London
In collaboration with Richard Brendon and some of our talented artists, the partnership brings back the historic tradition of British ceramic brands showcasing the work of exceptionally talented emerging artists, bringing their work to life in a new medium.
Care Instructions: Bone china can be washed in a dishwasher – at a maximum temperature of 60°C. However, we would recommend hand washing any pieces with gold or platinum precious metals. Stubborn stains can be removed by soaking in a mild bleach solution for up to one hour without damaging the china. Scouring pads or abrasive washing agents must not be used. Tableware with a gold or platinum trim must not be used in a microwave.
500 Piece Artist Edition Puzzles
Includes cotton drawstring bag for puzzle pieces
Made with recycled board
Made in collaboration with Luckies